EVOLUTION [30 years of design by Stefanie Hering]
The exhibition "EVOLUTION [30 Years of Design by Stefanie Hering]" in Taiwan shows her multifaceted work from the beginning to the present and traces her career as a craftswoman, designer, entrepreneur and artist.⁠
Learn more
Open Days & Open Saturday: Festive Table
Plan your visit to our showroom at Schlachtensee in Berlin. We are open every first Saturday of the month from 10 am to 2 pm and every Thursday from 9 am to 7 pm. For all other days and times, please feel free to make a Private Shopping appointment with us.
Hering Berlin's new head office invites you to discover and shop: timeless table culture as well as design with porcelain and glass in the room. Exclusively set theme tables and exquisite handcrafted gifts. Inspiration and (visual) pleasure. The Villa offers design lovers a unique, holistic experience - and is a showcase for all of Stefanie Hering's collections, which we will be happy to show you in detail.
We look forward to your visit.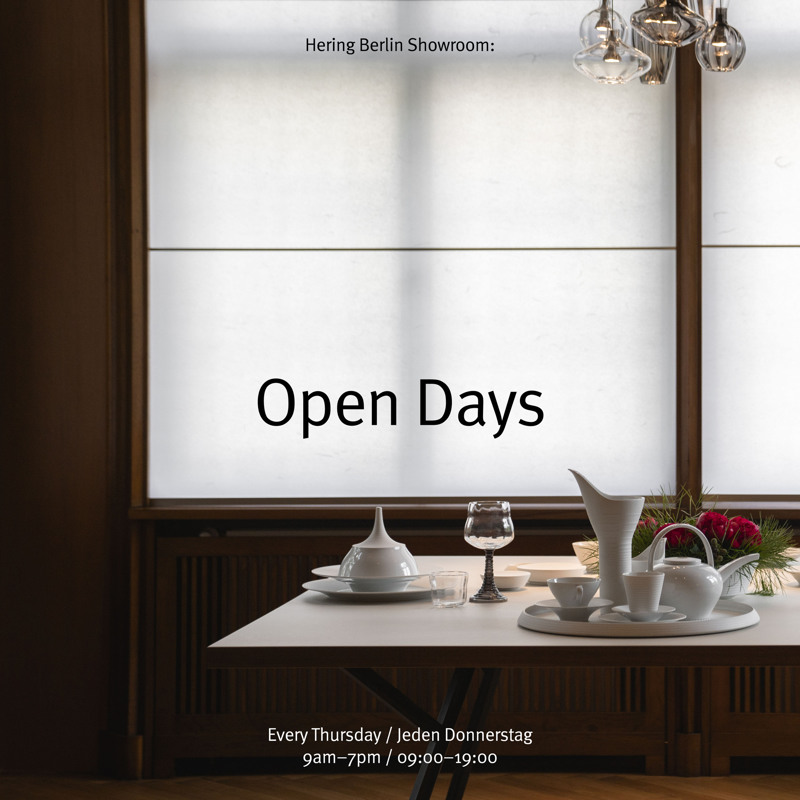 Open Days - every Thursday
You can now discover Stefanie Hering's handcrafted objects exclusively in our new premises. We open our doors for you...
When?
Every Thursday
9am – 7pm
Where?
Lindenthaler Allee 5
14163 Berlin
Open Saturday: Festive Table
Sceneries with Evolution, White and Gold
On the coming Open Saturday, the first Saturday in November, we present the Festive Winter Table curated by Stefanie Hering - with sceneries in gold and white porcelain combined with the Evolution collection. Be surprised how unusual fine, minimalistic porcelain can be rediscovered and used again and again for all upcoming occasions. Winter will be festive!
When?
Saturday 5th November 2022
10am – 2pm

Where?
Lindenthaler Allee 5
14163 Berlin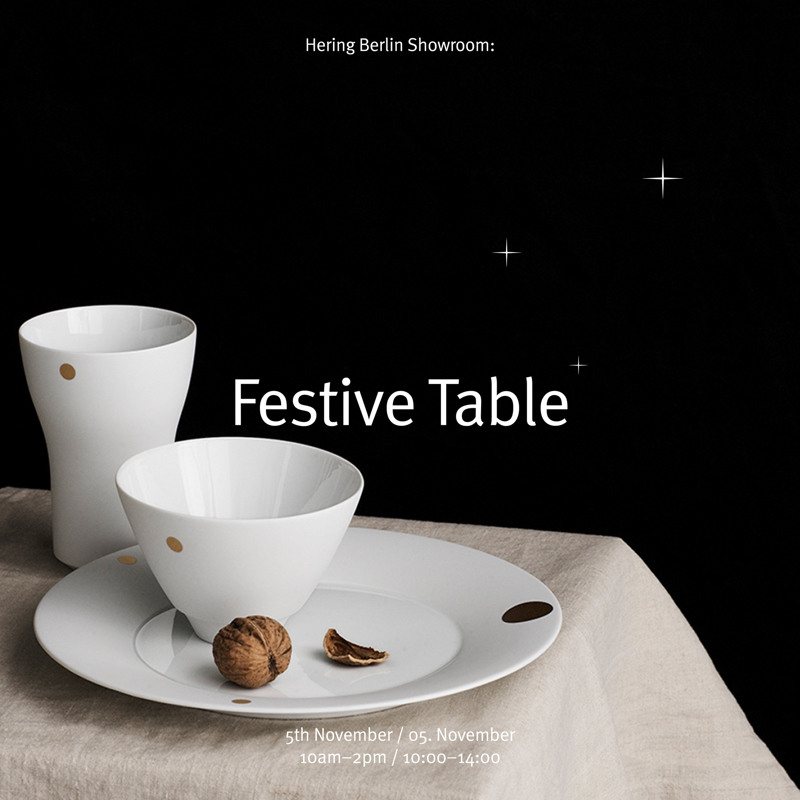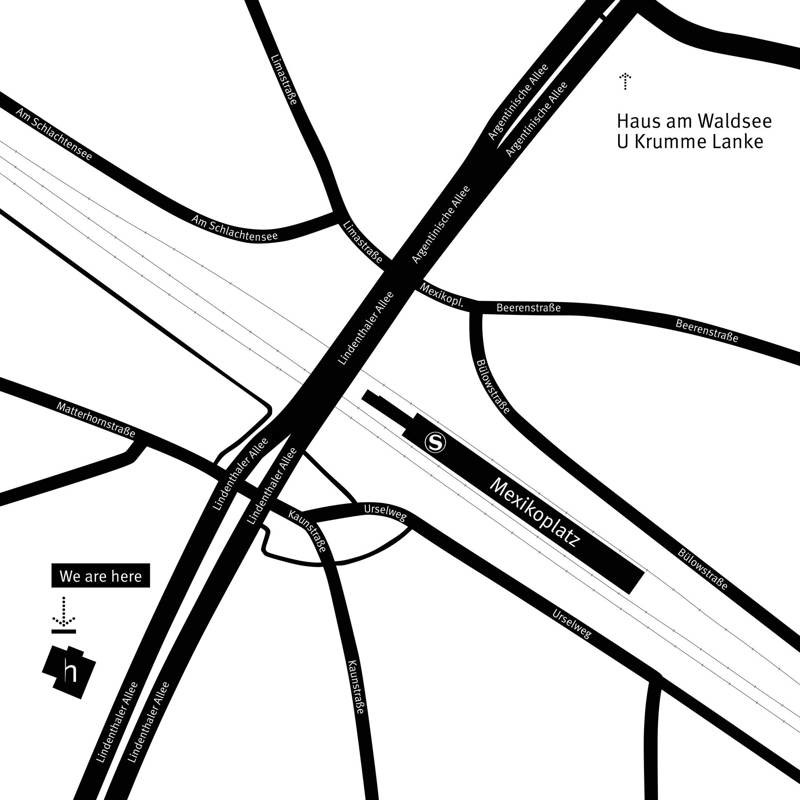 How to find us
Public transport:
S1 Mexikoplatz, walking distance 2 minutes / 180m
U3 Krumme Lanke, walking distance 13 minutes / 1km

Nearby:
The Hering Berlin showroom is located in the direct vicinity of the
Haus am Waldsee (Museum for Contemporary Art and Design),
walking distance 11 minutes / 850m
(Parking is possible right next to the street)
Porcelain beaker by Stefanie Hering
They are around 11 cm high and visually extremely discreet. They fit perfectly in the hand, so that you don't want to let go of them again. Above all, the handmade beakers from Hering Berlin contain everything that makes up the secret and fascination of high-class porcelain.

Read more...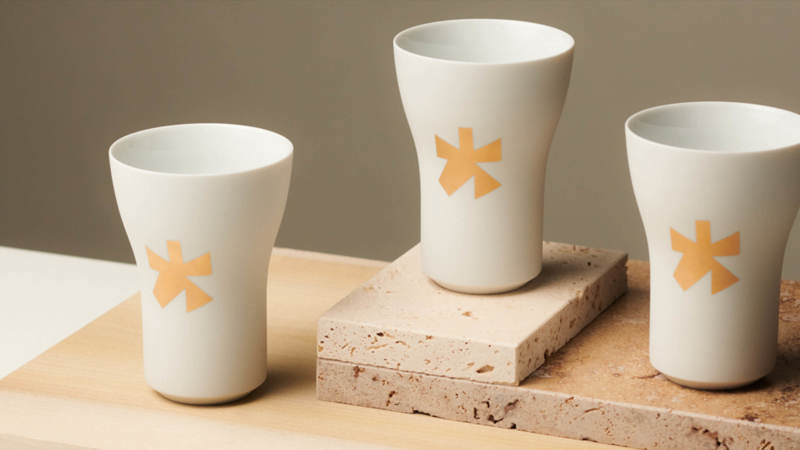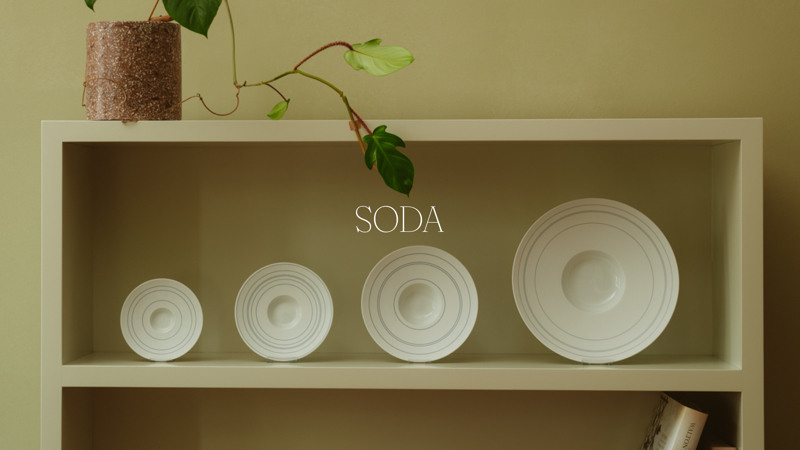 SODA by Stefanie Hering
Delicate blue rings and lines trace the shape of the vessel and characterise the "Soda" collection by Stefanie Hering. Designed in 2005, "Soda" is one of the most complex designs in terms of the manufacturing process that designer Stefanie Hering has developed to date.

Read more...