Hering Berlin presents new objects from the Evolution tableware collection
Hering Berlin is extending its Evolution Collection with five new introductions designed as art pieces for the table. Thanks to their unique shapes, these latest designs from Stefanie Hering will enhance Hering Berlin's range with organic-looking reliefs complemented by sculptured asymmetrical folds and curves.
Discover more
Handcrafted gifts from Hering Berlin
Unique. Artful. Individual.
Online TrunkShow with four curated gift sets by Stefanie Hering
14-24 September 2021 | www.heringberlin.com
Handcrafted gifts embody values. Tradition, sustainability, responsibility for the mastery of craftsmanship and the will to break new ground in design. Stefanie Hering's design stands for all of this. Gifts with the signature of Hering Berlin thus also always carry that special something that signals to the recipient that the unique is just good enough for him or her. For the 2021 festival season, Stefanie Hering has now curated four gift sets that are made especially - Made to Order - for you. As every single piece is handmade with great attention to detail in our manufactory ateliers and workshops, we need some time for this and would like to inspire you already now for relaxed selection and gift planning.
As an add on to every TrunkShow set and only in the TrunkShow period, there is an object made of Hering Berlin porcelain, which will bring you joy on all upcoming occasions of hospitality - and remind you that manufactory objects give a lifetime of beauty.

Shop TrunkShow
It is not easy to find the perfect gift. It should be individual, unique, tailored exactly to the needs and tastes of the recipient. It should also be highly aesthetic, timelessly beautiful and full of character, but also neutral enough to be combined with the recipient's other valuables. All these requirements can be met perfectly with porcelain from Hering Berlin.
For the 2021 festive season, Stefanie Hering, founder and head designer of Hering Berlin, has therefore now designed four handcrafted manufactory sets that are suitable for a wide variety of uses and gift occasions.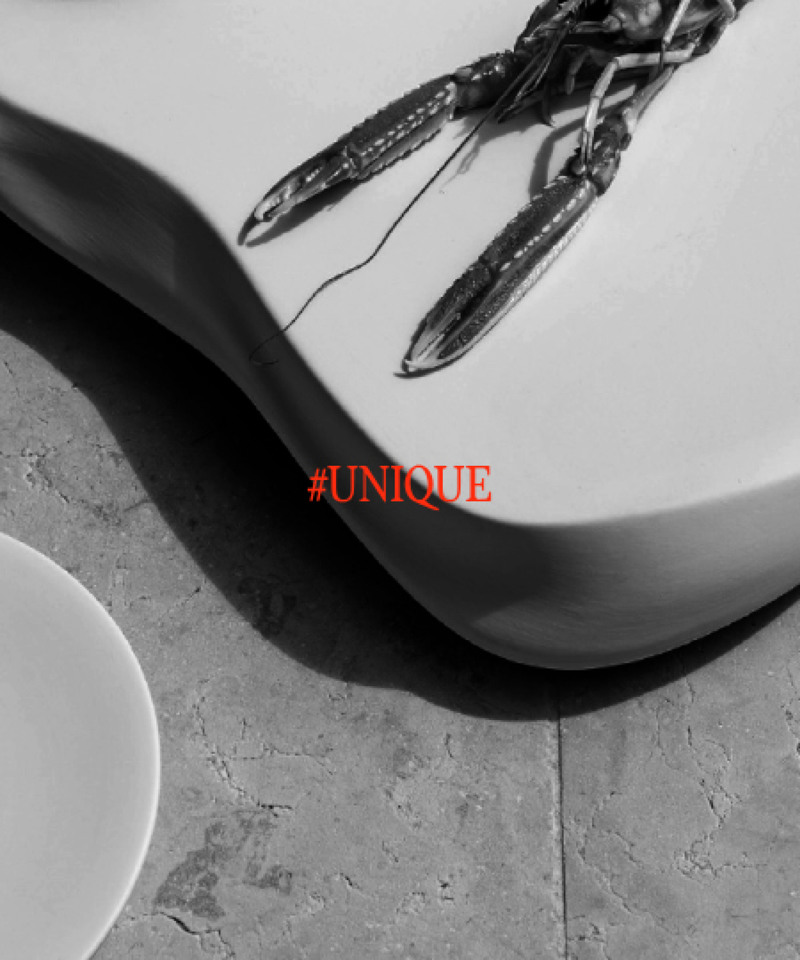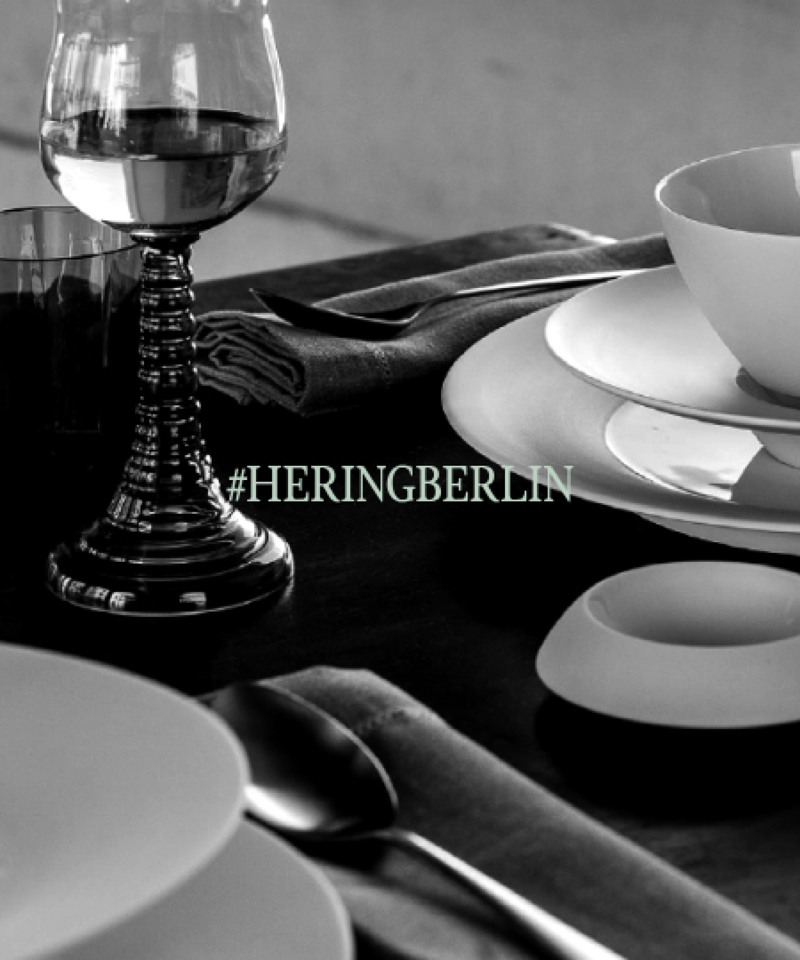 The expert for contemporary table culture, which combines traditional craftsmanship, masterful manual work, sustainability and an innovative spirit of experimentation, selected exclusively white porcelain for the gift combinations, which derive their charm from the combination of radiant, glazed surfaces and matt, hand-cut bisque porcelain and are complemented in some sets by the soft smoky-grey glasses of her "Domain" collection.
These sets, each including a lovingly selected add-on, are available exclusively at a TrunkShow from 14 to 24 September. If you like, you can not only think of upcoming birthdays, anniversaries or weddings, but also of Christmas, which only seems to be a long way off.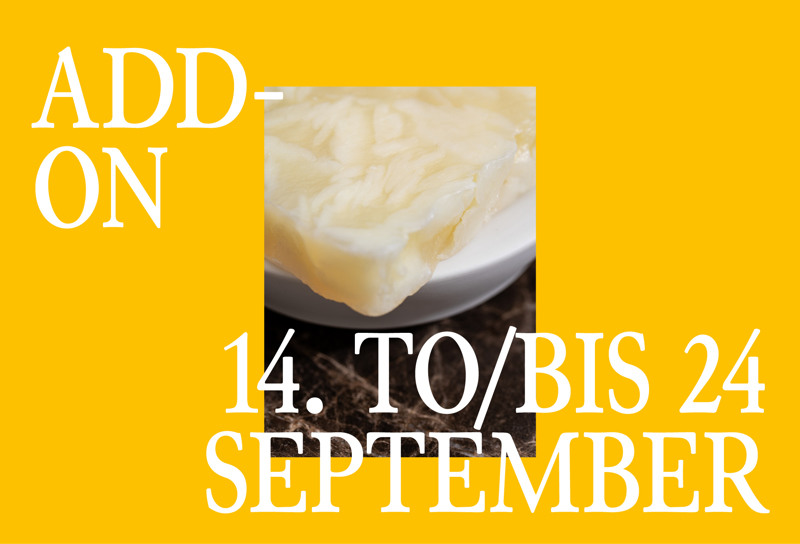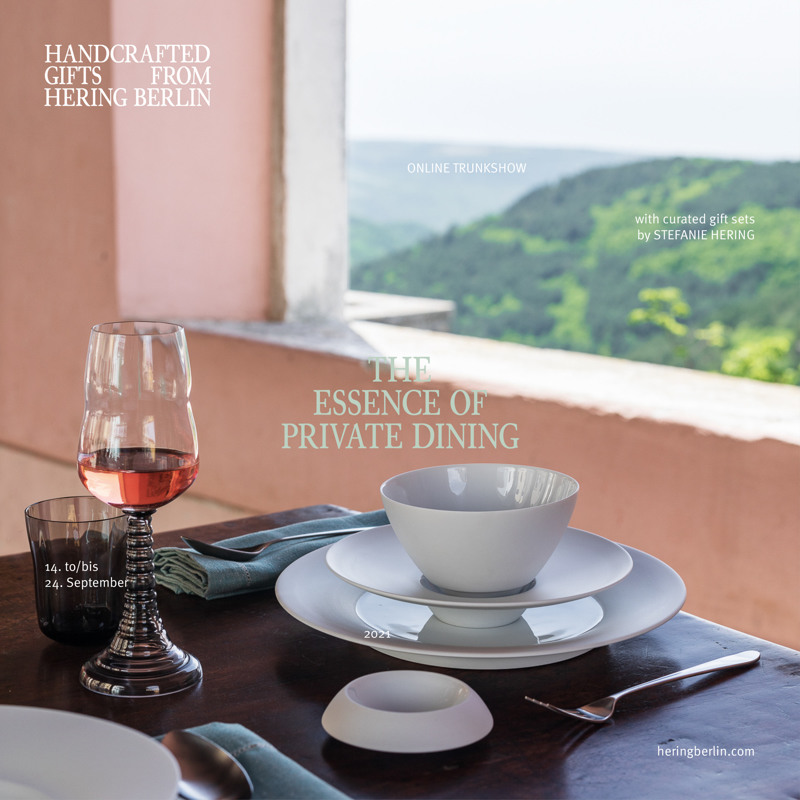 The Essence of Private Dining
The sets "The Essence of Private Dining" and "Globetrotter" are compilations of classically beautiful, but in detail refined and unusual objects for the dining table.

"The Essence of Private Dining" turns every small dinner for two into a celebration: In addition to a soup bowl, whose saucer is also suitable as a plate for small dishes, it contains, among other things, a water glass and a wine glass suitable for many different white wines from the "Domain" glass series, which Stefanie Hering developed in collaboration with a sommelière.
Globetrotter
"Globetrotter" for four people combines red wine and water glasses with a selection of plates and bowls from the minimalist "Velvet" collection and a Stefanie Hering innovation: vessels from the "Evolution" series, also all in white, with freely modelled sculptural sections.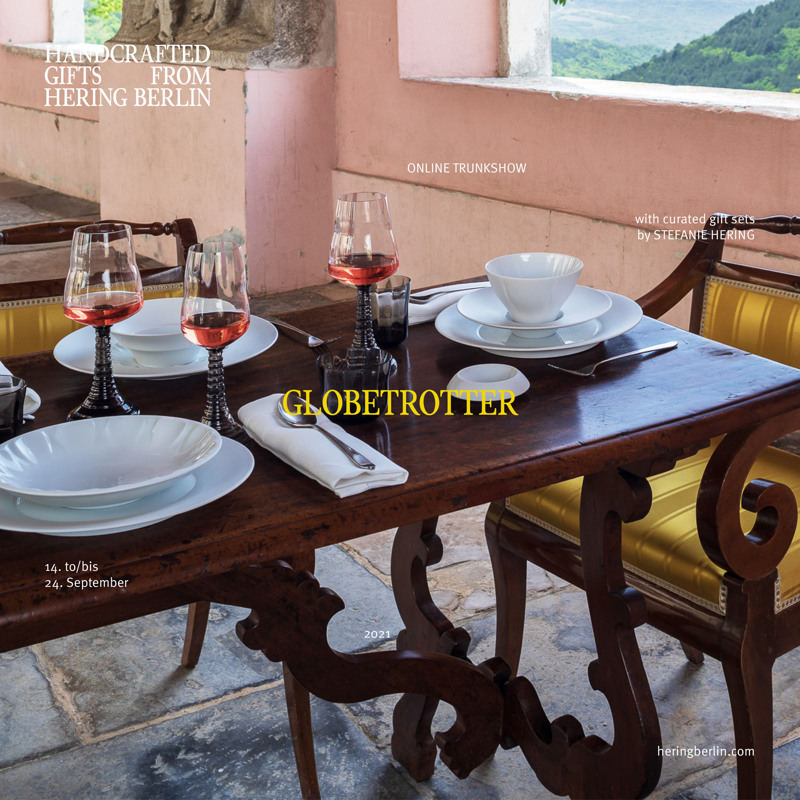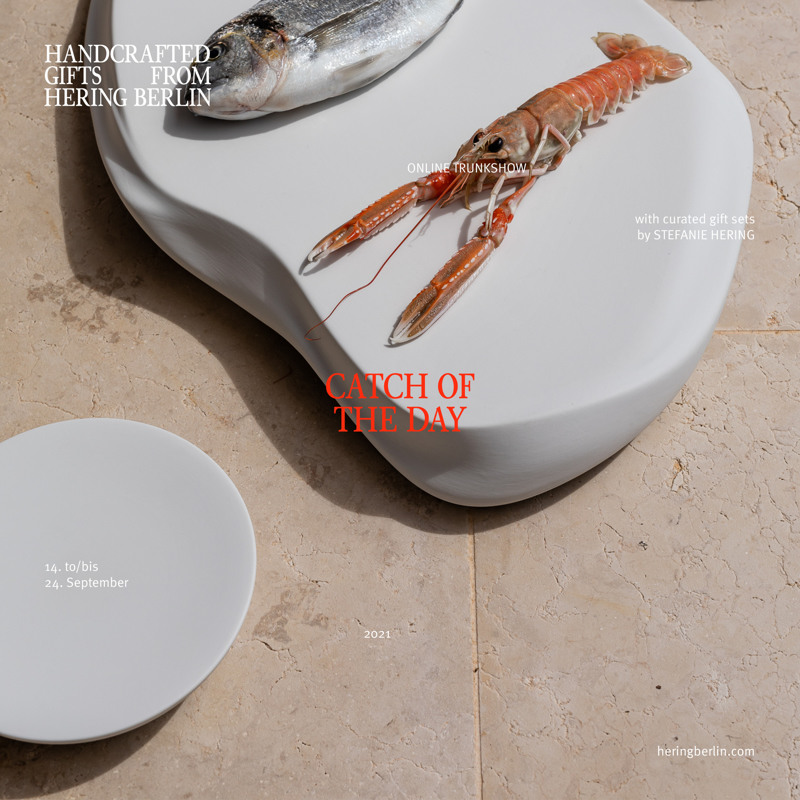 Catch of the day
"Catch of the day" has its central piece one of the most unusual objects from the Hering Berlin repertoire: a large plateau from the "Sublime Conversation" edition, for which Stefanie Hering translated forms of historical table decorations from the archives of the Schwarzburger Werkstätten into a modern design language.
In the case of "Catch of the day", which is designed for serving fish, these unique pieces are complemented by smaller plateaus on which side dishes can be arranged.
Bath time
Because Hering Berlin porcelains are so versatile that they cannot be reduced to certain purposes or "places of use", the fourth set of the Trunkshow is called "Bath time": with its mug, gyro plate, small plateau and small bowl, it can of course also be used for a little tea break in between, but it is intended to enhance a washstand: the mug for brushing teeth, the plateau as a soap dish, the gyro plate for the safe storage of rings and jewellery.

Whether you bring "Bath time" to your friends' housewarming invitations when they move house or welcome your daughter back from studying abroad with the versatile "Globetrotter": the timeless, hand-traced manufactory sets from Hering Berlin are a perfect, much-loved gift in every respect.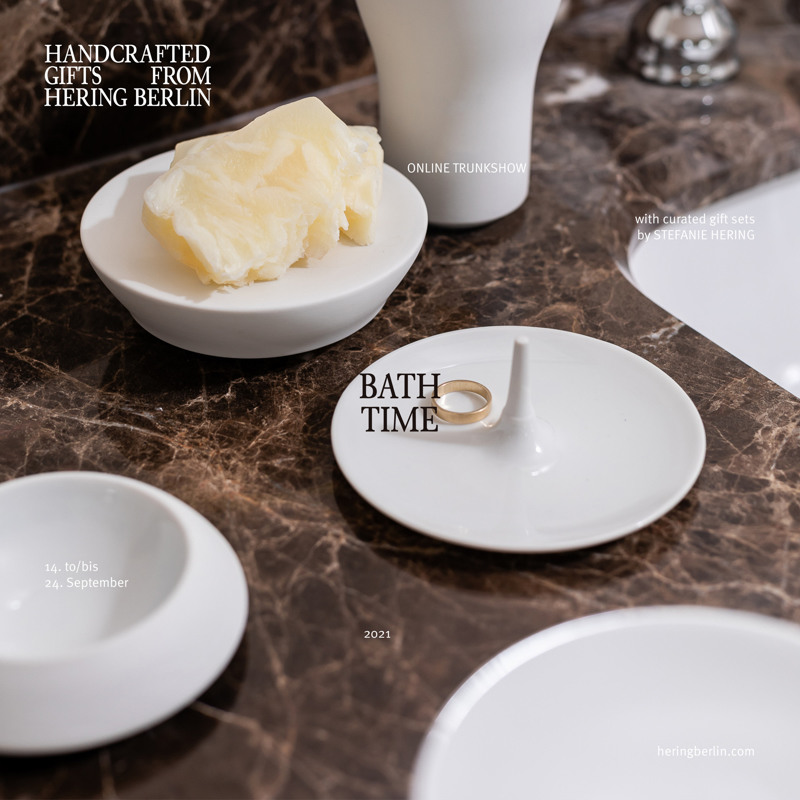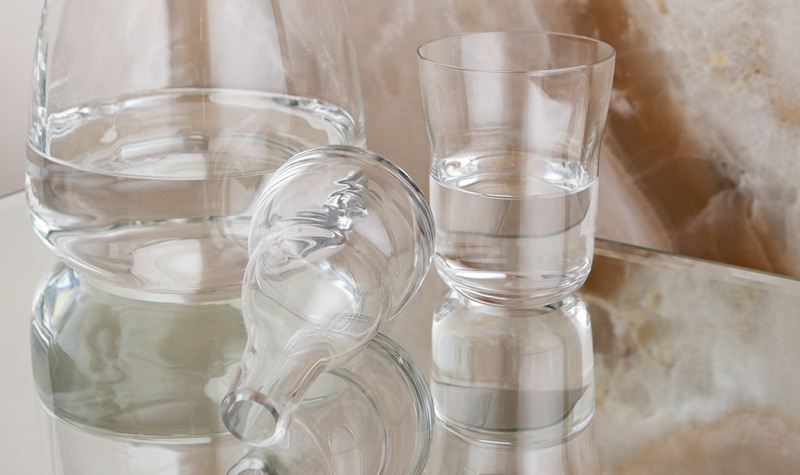 Gourmet water
in Hering Berlin glass
Mineral water is pure magic: Falls from the sky. Seeps through layers of rock, enriches itself with minerals and trace elements. Slumbers deep underground until it is finally recovered and served as a noble companion to wine and the finest food at beautifully laid tables.

Read more...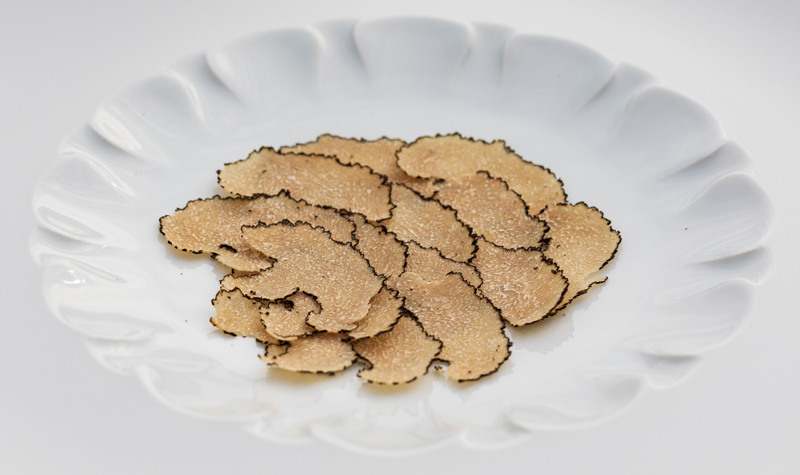 ISTRIAN TRUFFLES
More and more gourmets are discovering the northern Croatian peninsula of Istria for themselves: this is due to the magic of the rocky coast, the quiet beauty of the hilly interior or the venerable buildings that often date back to the Venetians. Above all, it is also due to ambitious hoteliers and chefs as well as producers who succeed in tickling out the highest qualities from traditional regional products.

Read more...