Hering Berlin presents new objects from the Evolution tableware collection
Hering Berlin is extending its Evolution Collection with five new introductions designed as art pieces for the table. Thanks to their unique shapes, these latest designs from Stefanie Hering will enhance Hering Berlin's range with organic-looking reliefs complemented by sculptured asymmetrical folds and curves.
Discover more
A splendid Christmas Porcelain from Hering Berlin
Christmas: a celebration that many associate not only with joy and splendour, childhood memories and happy family reunions, but also with culinary traditions that have often been passed down for generations. This means it is important that the accompanying feast and delicacies, which often take days to prepare, also look the part. Each country, each district has its own Christmas highlights. But wherever and however you celebrate, handmade porcelain from Hering Berlin not only offers you a wide variety of style and design options for your festive table, but also a multitude of presentation elements for special dishes.
France
The motherland of fine cuisine also serves up a treat on Christmas Eve: a feast of seven courses – from oysters to turkey, from cheese platters to the indispensable Bûche de Noël cake. Afterwards, 13 traditional desserts are served, including fruit, nougat, nuts, pastries, and fruit confectionery. This series of dishes places particular demands on the dinner service: it must enhance the ambience of the individual courses while featuring both large and small elements to serve the various delicacies. A diverse collection like Alif was made for a task like this. Alternatively, you could dazzle guests with a custom service put together from various Hering Berlin decorations following the mix & match principle.

Shop ALIF
Russia
In the land of Father Frost, there is not just one big Christmas dinner; instead, there are several feasts during the two-week period between the Western New Year's Eve and the old Russian New Year's Day on 14th January. In addition to the traditional Russian salad with chicken, potatoes, mayonnaise, and many other ingredients, they also like to serve hard-boiled eggs filled with herring, pâté, or caviar before the main dish, which is often goose with mashed potatoes. So it's a good thing the handmade porcelain from Hering Berlin includes a whole range of serving dishes and plates, some of which are also raised. The oyster bars from the Cielo, Pulse, or Velvet collections can even be re-purposed for hard-boiled eggs with caviar.

Shop CIELO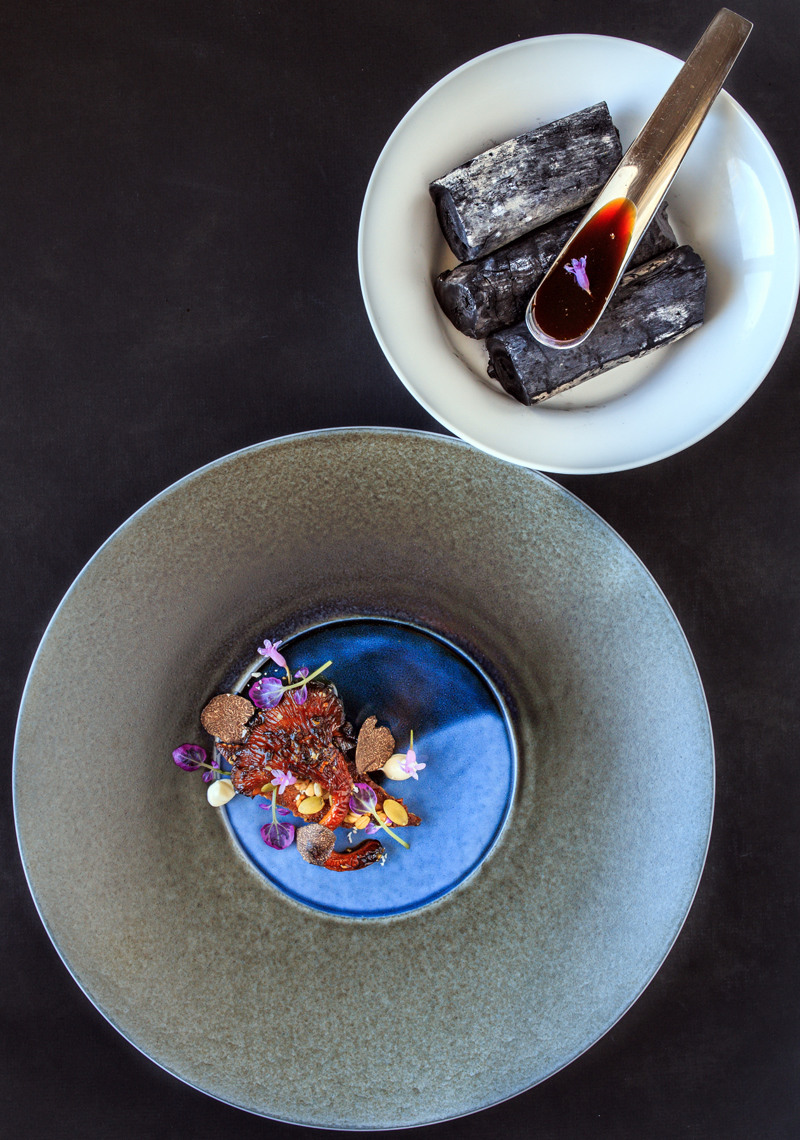 USA
A turkey is not only the main event of Thanksgiving dinner, but also features on the festive table of most Americans on Christmas Eve, flanked by colourful, mostly fruity side dishes. It is not just the Hering Berlin porcelain tableware with white decorations that are ideal for presenting this dish to its best advantage: collections such as Silent Iron, with its hand-applied glaze in iridescent grey-blue shades, form an appealing contrast to roasts, fruit chutneys, or berry sauces. And the classic Christmas eggnog not only looks pretty in the large cups available with various decorations; everyone will love warming their hands on their velvety surface made of polished bisque porcelain.

Shop SILENT IRON
South Africa
Thanks to the culinary traditions of the ancestral countries of origin of many South Africans today, turkey, ham, or Christmas pudding are also on the Christmas menu in South Africa. However, these classics have been heavily modified due to the opposite seasons in the southern hemisphere: thanks to the subtropical to Mediterranean temperatures, Christmas dinner often takes place as a beach picnic, with the turkey grilled over charcoals. The ham is cooked in a marinade of cola and brandy and the pudding is served as an ice-cream cake. Even in this summery setting, handcrafted porcelain from Hering Berlin can create festive, Christmassy highlights: for example, the Polite Gold Collection, with its large areas coated with real gold, or the simple but elaborately crafted dining collection Pulse, with its subtle relief ring pattern.

Shop POLITE GOLD
Singapore
What makes the island state off southern Malaysia so captivating is not just its bold architecture, but also the peaceful coexistence of different religions. Just under twenty percent of the population are Christians, but the rest of the population still enjoy the splendour of Christmas festivities. Themain celebrations begin on 16th December with the early-morning Misa de Gallo, the "Rooster's Mass", after which ginger tea and yellow rice cakes are traditionally served. The actual Christmas dinner on the night from the 24th to the 25th December consists of a mix of European and Asian delicacies, featuring suckling pig with sweet crackling, as well as sweet dishes made from rice. The variety of handmade porcelain from Hering Berlin has something to accompany all the celebrations: from elegant tea sets to dinner plates to decorative serving dishes, such as those in the Cielo collection, for which designer Stefanie Hering combined traditional basket cutting techniques with a timeless, international form.