Hering Berlin presents new objects from the Evolution tableware collection
Hering Berlin is extending its Evolution Collection with five new introductions designed as art pieces for the table. Thanks to their unique shapes, these latest designs from Stefanie Hering will enhance Hering Berlin's range with organic-looking reliefs complemented by sculptured asymmetrical folds and curves.
Discover more
Porcelain Curves by Hering Berlin
"Tomorrow will determine the success of your day", knows not only the American society icon Caroline Ghosn, from whom the quote comes. Apart from the desire for balanced meals, says Ghosn, it is above all a moment of pause that lays the foundation for a successful next hour.
Both can be combined at a breakfast table set with porcelain from Hering Berlin: The rich selection of tableware objects that the Berlin manufactory has put on display provides the perfect setting for every dining habit, from fruit salad to French toast, from croissants to fried eggs, from porridge to ham canapé. And the minimalist design language of Stefanie Hering, the designer behind Hering Berlin, not only ensures that all food and drinks are presented in a visually perfect manner without any great effort. It also provides the necessary clarity so that the mind and senses can gather in peace and prepare for the day.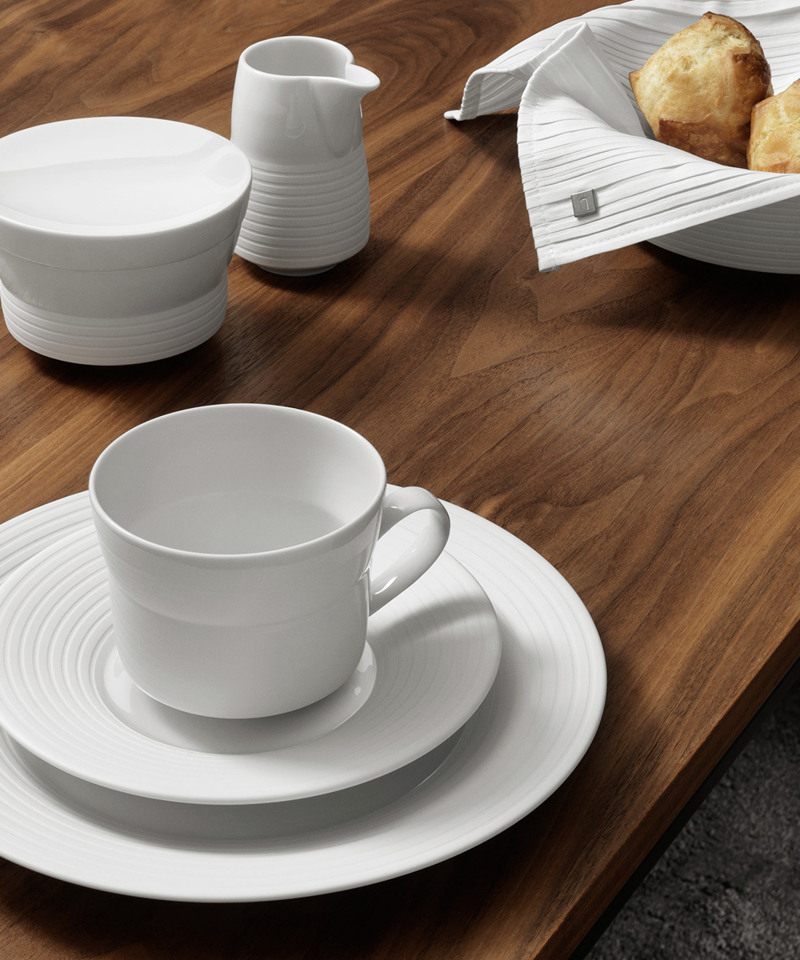 As simple as her breakfast sets in white appear at first glance, their almost sculptural shapes can set subtle accents.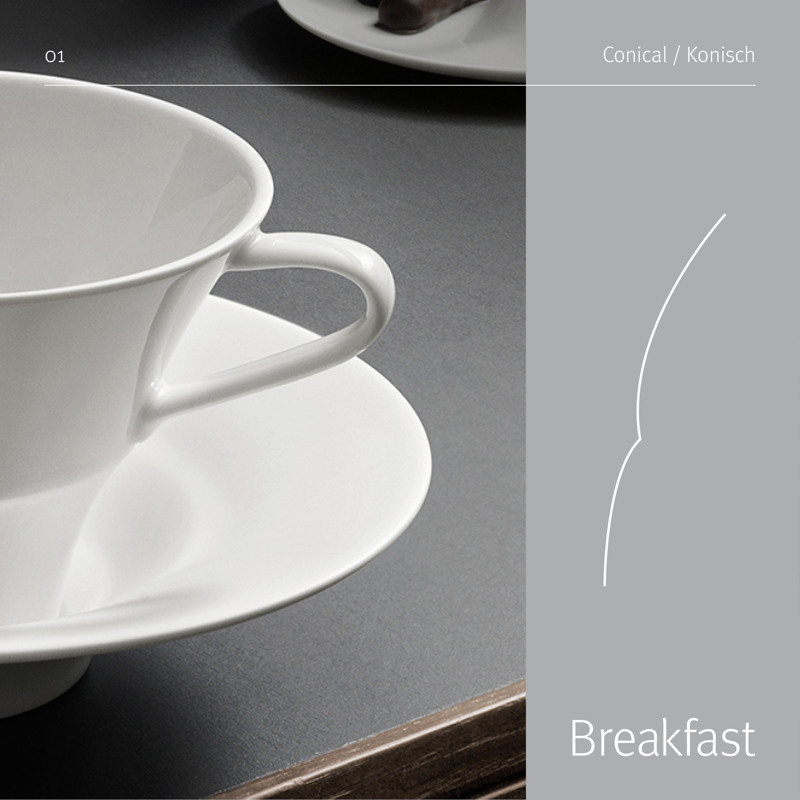 The curved Coupe series, for all its reduction, also conveys a touch of baroque opulence. The plates and vessels of the conical type, set off with a clear edge, emphasise the perfect geometry and the balanced correspondence of the objects within a place setting. Finally, the cylindrical set contains perhaps the most focused porcelain objects in the selection: They are so clear and unfussy that an almost Zen-like concentration emerges at breakfast.
The material in which all three series are worked also has subtle stimuli: Like all collections by Stefanie Hering, they are made of unglazed biscuit porcelain. Only sideboard surfaces, handles or inner walls of cups are glazed. This combination of velvety-matt and mirror-smooth shining surfaces enables not only a purely optical but also a sensual-tactile experience and can only be produced with the utmost care by hand.
In dealing with these objects we experience a very special, quiet luxury every morning, which only the trace of the hand can inscribe on things - and which makes us aware again and again that every new day is also a gift.