Hering Berlin presents new objects from the Evolution tableware collection
Hering Berlin is extending its Evolution Collection with five new introductions designed as art pieces for the table. Thanks to their unique shapes, these latest designs from Stefanie Hering will enhance Hering Berlin's range with organic-looking reliefs complemented by sculptured asymmetrical folds and curves.
Discover more
Porcelain Dinnerware
The path to the peak of pleasure does not only lead over the palate. Good cuisine, whether in a restaurant or at home, needs a visual framework that corresponds to the effort behind the dish. And it is this that gives a very simple delicacy its real shine. No other contemporary set collection fulfils this demand as perfectly as Hering Berlin dinnerware collections.
Hering Berlin Dinnerware
From pure white to lavishly decorated
Designer and founder of the company, Stefanie Hering, is in tune with the philosophy of the large porcelain factories, which still produce their sets by hand with endless attention to detail and centuries of expertise.
From the very beginning, however, the trained master ceramist was looking for ways to combine these craft traditions with modern eating habits and style demands. All her collections are timelessly modern - sometimes pure white, sometimes elaborately decorated. And yet all the shapes and decors she has developed are closely connected to these factory production traditions.
Stefanie Hering breaks with the classic dinnerware composition and gives absolute priority to both the individual forms and the individual wishes of the user. Each dinnerware set is not created by the specification of the design, but gets its meaning through function and individual selection.
Hering Berlin's most famous Design Dinnerware
Hering Berlin's most famous design, the "Cielo", is ultimately based on a classic porcelain decoration technique, the basket cut. Thanks to the immense knowledge that Stefanie Hering, a trained master ceramist, has acquired in working with this material, she succeeded in a fascinating reinterpretation: tiny holes are drilled by hand into the extra-wide edges of coupe plates and bowls; larger holes are cut in bread baskets and fruit bowls, also by hand.
Both techniques are a tightrope walk along the border of what is feasible with porcelain: Since the holes have to be worked into the fragile and moist mass before firing, the execution of the decor is always a technical challenge, but also a static one. This balancing act is driven to extremes in a decorative object belonging to "Cielo", which stands with its wide upper edge only on a tiny footprint.
This object makes it clear that Stefanie Hering, especially with "Cielo", but also with her other porcelain dinnerware collections, is right in the crosshairs of porcelain craftsmenship dinnerware and art.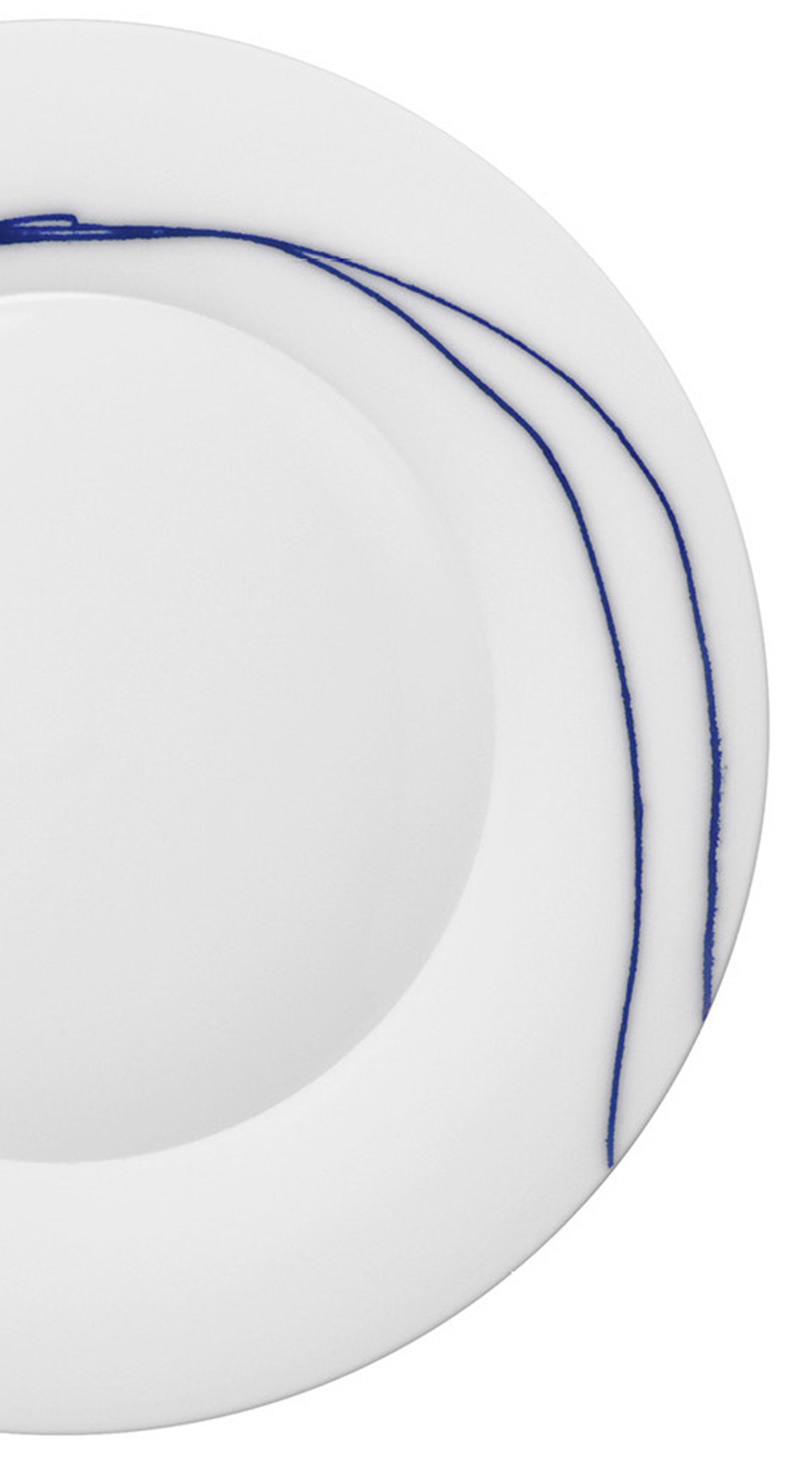 A tribute to classic blue decor Porcelain
The "Granat" dinnerware set
The "Granat" collection is the best example of this: hand-painted blue lines that look like sketches cover the velvety rough biscuit porcelain of the edges and the melting, reflecting white of the glazed sideboards of flat plates, deep plates, serving plates, and bowls.
The decor plays with the ancient motif of the pomegranate, which already decorated Chinese porcelain brought to Europe on merchant ships in the 17th century. In the 18th century, it was adapted by the up-and-coming European factories; for example, the "onion pattern", which is dedicated to the pomegranate, is still one of the best-known decorations in the history of porcelain today.
Stefanie Hering's pomegranate design breaks this strict pattern. If there are only two abstract slightly curved lines on the gourmet plate, the coupe plate or the pasta plate, there are goblet leaves and a rounding of the fruit indicated on the mug, salad bowl or jam bowl; on one of the cake and bread plates, some saucers or the dessert bowl it can be seen as a whole.
Hering Berlin's great decorating tradition is given an extremely contemporary interpretation in this stunning blue lined dinnerware set from Hering Berlin.
"Piqueur": Wildlife and Game Porcelain
In the tradition of a noble hunting set
The "Piqueur" design also takes on a great decorating tradition: the hunting set that princes had made for their hunting lodges.
Porcelain designer Stefanie Hering, on the other hand, approaches this noble theme with a charming, modern twinkle in her eye: the decor, developed in collaboration with star chef Harald Rüssel, shows animals and plant details from the forest, field and mountains, drawn in subtle shades of grey and with a slightly humorous touch. Field hares hobble over cake and bread plates, hedgehogs trifle along the edge of breakfast plates.
A royal wild boar dominates the dinner plate and place plate. A capercaillie spreads out on the mug. And the ibex reigns as king of the Alps over pasta dishes and salad bowls.
With this porcelain set, Hering Berlin can, in addition to the immense product quality, also play out another advantage that is only possible in the area of Handcrafted porcelain: There are several decor variants for most shapes - so everyone can put together their own individual dinnerware set with their favourite decors.
In addition, the set can even be partially personalised on request: if they are adaptable to the respective shape, plates and dishes can be given decorative motifs according to personal preferences.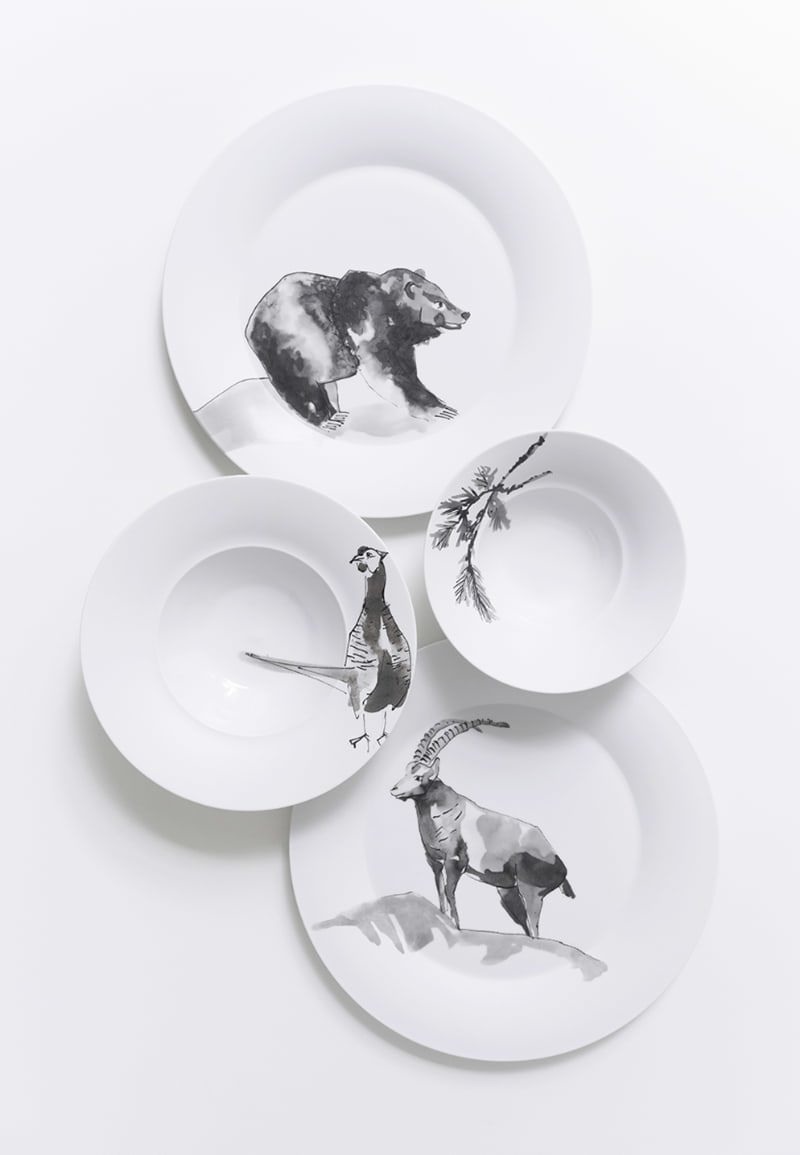 The high-quality "Polite Gold" and "Polite Silver" Dinnerware collections
Gold and Silver - The high-quality "Polite Gold" and "Polite Silver" dinnerware collections Another decorative technique from the repertoire of the major manufacturers is used to give the "Polite Gold" and "Polite Silver" collections their modern, elegant, simple yet extravagant appearance: working with gold and silver, which is elaborately applied to the porcelain.
It is used classically as a narrow gold or silver ring on the edge of the plate. But at Hering Berlin, whole, wide plate edges, the outside of cups or, especially spectacular, teapots, are covered with gold.
Ready for your questions, get in touch
Do you have any questions regarding our Porcelain Dinnerware collections? About a specific product or how to get together a complete tablesetting? We are here for you! Call us on the phone, book a virtual store appoint for a video call, email or use our contact form so we can get in touch. We'd love to assist you!